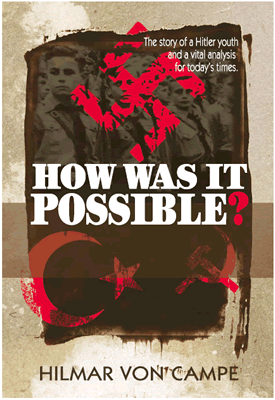 Tonight while Hilmar von Campe and Walid Shoebat were speaking at Columbia University which limited the audience to just a few (unbelievable!) we aired my pre-recorded interview with Hilmar, the former Hitler Soldier, on the show.
He recounted what it was like being a Hitler Youth and Soldier, surprisingly telling that there was no formal indoctrination to the Youth or Soldiers. Rather, the
indoctrination came via the media
(radio and newspaper). Hitler's goal was to indoctrinate the whole German people. Everyone thought they were just getting the news.
Hitler also faked 'enemy attacks'
ie took dead people put them in polish uniforms, put them near the border, and used that to 'show' the Germans they were attacked, as reason to go to war.
So much important information in Part 1 you can hear online. Part 2 will air next week when we will talk about the current war on terrorism and Hitler's Germany similarities.

Hear the show (See 10/11/06)
4
Comment