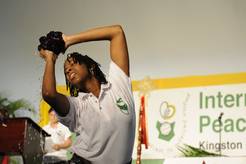 It's getting harder and harder to know whose reporting you can trust in the religious community. One I appreciate is the conservative
Institute on Religion and Democracy
...at least the reporting I've seen. For instance...
"The World Council of Churches (WCC) is preparing for the next round of its seemingly endless "Decade to Overcome Violence,"
which is mostly about opposing America and the West. Stopping Islamist "violence" does not typically rank high on its agenda
. This May it convened a culminating
"International Ecumenical Peace Convocation"
in Jamaica. The "Decade" began in 2001 along with the United Nations' "International Decade for a Culture of Peace and Non-Violence for the Children of the World."
Over the last 10 years, the WCC has dispatched "living letters" i.e. Religious Left delegations that visited a host of countries, including the U.S. in 2007.
The U.S. "letter" mainly visited with gun control groups, anti-Iraq War protesters
, and agitated voices disgruntled over New Orleans slow recovery from Katrina. It's not clear how anger over a hurricane's wreckage, and the often botched federal effort to rebuild, qualifies as "violence."
But the WCC's "Decade" is mostly about just being angry with the "empire," i.e. the U.S.
Read the rest.
See shows on this Issue and more in our Broadcast Archives Listen here
More at Changing Worldviews
Sign Up for my Free Email Newsletter
Follow me on Facebook
Follow me on Twitter