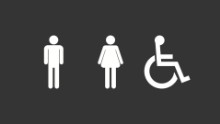 CNN -- Reports, "The United States and North Carolina tangled over transgender rights on Monday, with the Justice Department filing a civil rights lawsuit over the state's so-called bathroom bill and state officials defiantly filing suits against the federal directive to stop the implementation of the controversial legislation.
"Also, a major player in North Carolina -- the state's public university system -- defied the governor and legislature and told the Justice Department on Monday it intends to act "in compliance with federal law" as it relates to House Bill 2, known as HB2.
The Justice Department seeks declaratory relief and threatens to curtail federal funding to the North Carolina Department of Public Safety and the University of North Carolina."