On today's show we talked about...
Barack Obama and Hillary Clinton participated in a forum on faith and politics in Pennsylvania on Sunday, where the next key primary is. The forum was not a debate. The two candidates were questioned separately at Messiah College near Harrisburg, Pennsylvania, and was broadcast nationally on CNN.
The audience included leaders from several different faiths who asked questions on abortion, euthanasia & Aids. The Compassion Forum's said goals were to "provide the opportunity for candidates to discuss how their faith and moral convictions bear on their positions on these important issues." And "to offer candidates an
unprecedented opportunity to reach religious voters."
The Forum was also broadcast on the Church Communication Network (CCN) to more than 100,000 people in over 1,000 churches across the country. And the Compassion Forum Board, which includes religious leaders from across the faith and ideological spectrum including the controversial Rev. Jim Wallis,
of Sojourners,
the leader of the religious political left.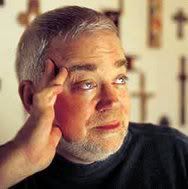 The two candidates were asked if they thought life began at conception.
Clinton: "I believe that the potential for life begins at conception. But for me, it is not only about the potential life, but the other lives involved." She said, "I have concluded, after great, you know, concern and searching my own mind and heart over many years that individuals must be entrusted to make this profound decision, because the alternative would be such an intrusion of government authority that it would be very difficult to sustain in our kind of open society." Clinton said she sought wisdom from God about moral questions like abortion, but said she didn't know if she had the right answers. "I don't pretend to even believe that I know the answers to a lot of these questions. I don't."
Obama: who sparked controversy recently when he said he would not want to see his daughters "burdened" (those are CNN's words - he actually said "punished") with an unwanted child -- said it was important to "acknowledge that there is a moral dimension to abortion, which I think that all too often those of us who are pro-choice have not talked about or tried to tap down." (tap down, what's that?) Obama stressed that "adoption is an option," but remained committed to supporting abortion. Obama said he did not know whether life begins with conception. "This is something that I have not, I think, come to a firm resolution on...I don't presume to know the answer to that question."

See video clip of Obama on babies as punishment.

This view on abortion held by both the democrat candidates is in direct contrast to the majority of Americans who are pro-life, and Obama tried to downplay his pro-abortion position saying, "I absolutely think we can find common ground" and "we can take some of the edge off the debate."
Go here
to see more on the candidates and abortion.
Hear the show online now (See 4/14/08)
4
Comment